Emepelle Night Cream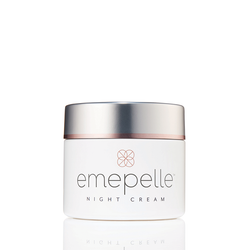 Emepelle Night Cream is luxurious, nourishing and restorative.
Features high strength, revolutionary MEP Technology® to target the root cause of menopausal skin ageing. Packed with additional active ingredients including retinol, niacinamide, peptides and hyaluronic acid for intense hydration and visible anti-ageing results.
50g

Rich formulation maximises hydration and nourishment

Harnesses skin's night-time repair activities
Suitable for all skin types
Vegan friendly
Emepelle 30-day money back guarantee: Invest in your skin with confidence. If Emepelle doesn't suit your skin, we'll give you your money back.
How to use Emepelle Night Cream
Apply to cleansed skin, on an evening, before bed
You only need a little. Use your Emepelle Night Cream spoon to measure out a pea-size amount
Apply to the face and neck with light upward sweeping motions
After use, rinse your spoon under warm water
Expert tip
Introduce Emepelle Night Cream into your skin regime by following the Step Up Programme.